Gerbil
The gerbil is a curious, friendly and nearly odorless rodent that makes it a very popular pet. They have adapted well to captivity and tend to be relatively free of naturally occurring infectious diseases. These rodents rarely bite or fight, are easy to keep clean and care for, and are relative easy to handle.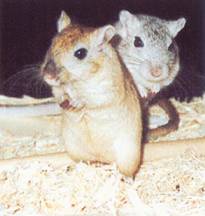 DIET
Pelleted rodent ration containing 20% to 22% protein typically processed as dry blocks or pellets.
Seed formulated diets should only supplement the basic rodent pellet. When fed alone, seed diets often lead to obesity and potential nutritional deficiencies.
Other supplements to the diet may include sugarless breakfast cereals, whole wheat breads, pasta, cheese, fresh fruits and vegetables; all in moderation.

HANDLING
Most gerbils will approach a hand introduced into their cage and can be easily scooped into the palm of the hand or picked up by grasping the base of the tail. Be careful only to grasp the gerbil by the base of the tail, for the skin over the end of the tail is easily pulled off. Once picked up the gerbil can be restrained by scruffing the loose skin over their neck between your thumb and index finger while the base of the tail is held between your fourth and fifth fingers.

HOUSING
Several types of cages are available which are suitable for housing gerbils. Many of these units come equipped with exercise wheels, tunnels and nest boxes. Cage material should be wire, stainless steel, durable plastic and glass. Beware that glass and plastic containers drastically reduce ventilation and can lead to problems with temperature and humidity regulation.
Gerbils thrive in sold bottom cages with deep bedding and ample nesting material. Bedding must be clean, non-toxic, absorbent, relatively dust free and easily acquired. CAREFRESH pet bedding, shredded newspaper, pine shavings, or processed corn cob.

NON-INFECTIONS CONDITIONS
Epilepsy
The gerbil has a genetic tendency to develop epileptiform seizures. The occurrence rate for the general pet population is 20 to 40%. Fright, handling, or exposure to a new environment may initiate these seizures. The attack can be mild (slight shaking) to very severe (violent convulsive body jerking, erratic movements and collapse).

Tail Sloughing
Improper handling of gerbils can result in the loss of fur from the end of the tail. This occurs when the animal is grasped by the tip of the tail. The skinless tail dies off and sloughs, with the stump usually healing without complications. In some instances, the tail may need to be amputated.

Nasal Dermatitis (Bald Nose)
Gerbils commonly develop hair loss on the nose and muzzle with open lesions and crusting. This condition is often attributed to abrasions from coarse bedding or rough surfaces within the cage or environment, but the Harderian gland may also be involved. The Harderian gland is located behind the eye and produces a secretion that empties onto the globe. From the eye, this material is drained into the nose by way of nasolacrimal duct. This secretion is mixed with saliva and spread over the hair coat during grooming. Nasal dermatitis tends to affect young mature gerbils most often.

DISEASE CONDITIONS
Renal Disease
Old gerbils, 2 ½ to 4 years of age, often present with a history of weight loss, loss of muscle mass, poor appetite, and lethargy. In addition, an increase in water consumption may be observed. These are all signs consistent with renal disease in old gerbils. Treatment is only supportive in rodents, with emphasis on providing ample fresh, clean water and food at all times to prevent stress that may trigger full renal failure.

Neoplasia (Cancer or Tumors)
Gerbils have a relatively high incidence of cancer after they reach 2 years of age. The organ most affected is the ovary. Ovarian tumors are common in female gerbils with poor reproductive performance. They may present with early cessation of reproduction, decreased litter size, or distended abdomens. All of these signs may also be present with cystic ovaries as well.
The skin is the second most affected site for tumors in the gerbil. Squamous cell carcinomas and melanomas are most frequently encountered. Melanomas have a tendency to develop around the ear, foot, or base of the tail.
The ventral marking scent gland is the third most common site of neoplasia. This gland is located in the mid-abdominal area. It is hairless, oval tan structure, which tends to be more prominent in males. The gland produces an orange-colored secretion that is used to mark territory. Tumors of this gland appear as "abscesses" on the abdomen. Usually the tumor is not malignant, but may have a secondary bacterial infection.

Tyzzer's Disease
The most commonly reported infectious disease of gerbils is Tyzzer's disease. The disease causes a high death rate especially in young male gerbils. Clinical signs are nonspecific, primarily consisting of ruffled fur, lethargy, hunched posture and poor appetite. Diarrhea may also be present. The disease causes changes in the heart, liver, lymph nodes and digestive tract.

GERBIL FACTS
Scientific Name…………………………………………………………. Meriones unguiculatus
Life Span……………………………………………………………….. 2 to 4 years
Environmental Temperature Range …………………………………….. 65° - 85°F
Relative Humidity Range ……………………………………………….. 30 – 50%
Breeding Age…………………………………………………………… 10 to 12 weeks
Estrous Cycle…………………………………………………………… 4 to 6 days
Gestation Period………………………………………………………… 24 to 26 days
(with lactation)… 27 to 48 days
Litter Size……………………………………………………………….. 3 to 7 young
Weaning Age……………………………………………………………. 21 days
Ears Open……………………………………………………………….. 3 to 7 days
Haircoat Develops………………………………………………………. 7 to 10 days
Incisors Erupt……………………………………………………………. 12 to 14 days
Eyes Open………………………………………………………………. 14 to 20 days